We wanted to update you on regarding RLC moving into phase three of our
return plan.
Our heart is to continue to offer a safe and healthy
environment where all are welcomed. If you have any questions, please
don't hesitate to ask one of our qualified staff members.
Moving forward, we are going to:
Continue to meet together at our Wadsworth campus. Our Highland Square campus rents a public school which is

currently unavailable.

Continue to "Show We Care" by giving additional space to those who need it and provide stickers to help recognize their need for further distancing.

Assume that those not wearing a mask prior to June 2nd are vaccinated.

Continue live streaming all services online.

Continue to honor the mandates from our governor until they end on June 2nd.

Invite all people to remove masks if they are comfortable once those mandates are lifted on June 2nd.

Respect and honor those who continue to wear a mask recognizing the variety of reasons one may choose (or need) to continue wearing one.

Continue to urge those not feeling well to stay home.

Open our altars with the laying on of hands in our services.

Continue to serve coffee and refreshments.

Shake hands, high five, and hug those who are comfortable with physical contact.

Provide hand sanitizing stations throughout the building.

Continue having two services on Sunday mornings at 9am and 11am.

Keep additional spacing in the Worship Center during services.

Turn water fountains back on. l Continue cleaning between services.

Provide temperature checks for our kids areas during flu seasons.

Continue to have faith in our Lord Jesus Christ and honor all of His children.

Continue to celebrate, encourage, and build His Kingdom above all else.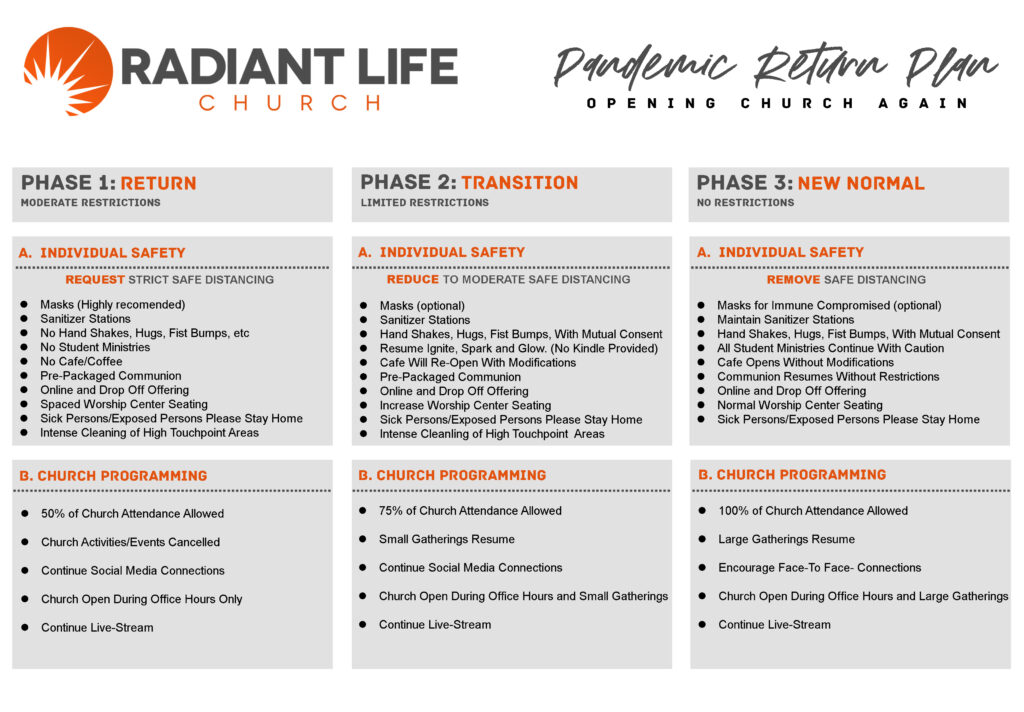 At Radiant Life Church, you'll be welcomed into a friendly, casual environment by people who are excited to see you. We want you to have an idea of what to expect when you arrive at a Radiant Life Church. All you have to do from here is come as you are and find out more for yourself!
At a weekend service, you can expect:
Services that last approximately one hour and fifteen minutes.

Thought-provoking and engaging messages based on the Bible.

An engaging worship experience including contemporary songs.

Fun teaching for your kids.

Sunday Mornings | 9:00am & 11:00am
Adult Service – Worship Center
Ministries for children grades 5th through newborn available during morning worship service.
Wednesday Nights | 7:00pm
Adult Bible Study – Worship Center
Ignite Youth Ministry – Community Center
Shine Girls Ministries – Kids Wing
Flash Boys Ministries – Kids Wing

Please check-in all children ages 0 through 5th grade at the Kids Check-in area located at the back of the lobby. You will receive a ticket with a code on it for each child. All children will then enter the double doors to the Kids Wing and will be directed to their appropriate rooms
To pick up your children, you'll need to have the ticket you received at check-in. Children 4 years through 5th grade will be picked up outside of the Community Center doors. Newborns through 3 years will be picked up at the nursery and toddler area in the Kids Wing. A volunteer worker will take your ticket at the nursery counter and bring your child to you.
Does your child need special assistance during their time with us? Please make sure to click on the online registration below so our 'buddies' know the best way to assist them while in our service.
To save time at your first check-in, feel free to visit our online registration. Just be sure to give us at least 4 hours notice so we can transfer the information into our check-in software.
Every person who walks through our doors matters and we would love the opportunity to meet you at our Connection Center located in our lobby area after each service. Once there you'll have the opportunity to meet our Pastor, receive a free gift, and get answers to any questions you might have about Radiant Life Church. This is also a great time to find more about some of the amazing opportunities to be a part of what is happening at Radiant Life Church.
All we'll ask of you is a few minutes of your time to tell us about yourself and how we can serve you better. If you don't have time to stop, you can always complete our online Guest Connection card by clicking on the link below.


844 Hartman Rd. | Wadsworth, OH 44281
Phone: (330) 335-1594 | email: info@myrlc.family