We wanted to update you on regarding RLC moving into phase two of our
return plan. We understand that many want us to move faster while many
are wanting us to move slower. In this season take a few extra minutes to
pray for the staff and leadership team as we navigate through these
uncharted waters. Our heart is to continue to offer a safe and healthy
environment where all are welcomed. If you have any questions, please
don't hesitate to ask one of our qualified staff members.
Because our Highland Square campus rents a public school which is

currently unavailable, we will continue to temporarily combine our

campuses at our Wadsworth location (844 Hartman Rd).

Our service times have been modified to accommodate social

distancing and mass gathering requirements. We will be meeting at

9AM and 11AM on Sunday mornings.

We are moving away from every other row seating during our

services. We have purchased a sprayer that will allow us to clean the

chairs in between services with an odorless and non-toxic solution.

Our rows will be spaced further apart to maintain safe social

distancing. All hard surfaces will continue to be cleaned between

service times utilizing Lysol wipes.

We are so excited to open our kids ministries are fully open!

We will be taking every precaution necessary

to provide the safest environment. Each child and each volunteer will

have their temperature checked (onsite) before entering the kid's

area. All school age children will be required to wear a mask as will all

of our volunteers unless they are on a microphone. Preschool age

children do not have to wear a mask. Once children get to their seat

they may remove their mask as long as they are at their seat and will

only have to put it back on if they need to use the restroom or when

they get picked up. All seating will be socially distanced as well.

Ignite Student ministries (6th -12th grade) is open and meeting every Wednesday evening at 7:00pm!

Adult Bible Studies on Wednesday night are both in person and online in our RLC Facebook group at 7:00pm.

Our drinking fountains are temporarily be closed.

Although we have always provided sanitizing stations, we have

increased the number of stations available to you and your families.

As you may be aware, our pastoral staff and service hosts LOVE

greeting you at the doors. Handshakes and fist-bumps have been a

regular occurrence at RLC. For this time, because we care, we will be

moving to the "air five" or the "pretend hug" we've all given at least

once to someone we love in this season. Have no doubt, you will see

our smiles behind our facial coverings.

Speaking of facial coverings—what are we doing with those? We have

chosen to comply with our state and local recommendations and are

asking for everyone to wear a facial covering while in attendance at

RLC.

For those that are more vulnerable or immune-compromised we offer

"show you care" stickers that are available for you to wear and act as

a reminder to give to a little more space.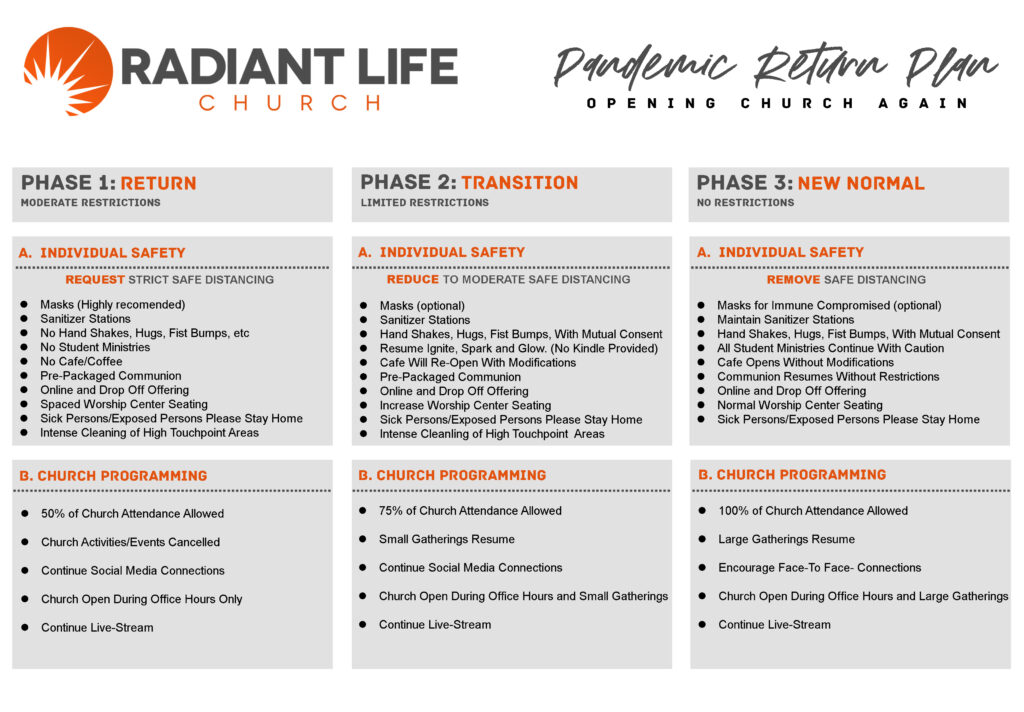 At Radiant Life Church, you'll be welcomed into a friendly, casual environment by people who are excited to see you. We want you to have an idea of what to expect when you arrive at a Radiant Life Church. All you have to do from here is come as you are and find out more for yourself!
At a weekend service, you can expect:
Services that last approximately one hour and fifteen minutes.

Thought-provoking and engaging messages based on the Bible.

An engaging worship experience including contemporary songs.

Fun teaching for your kids.

Sunday Mornings | 9:00am & 11:00am
Adult Service – Worship Center
Ministries for children grades 5th through newborn available during morning worship service.
Wednesday Nights | 7:00pm
Adult Bible Study – Worship Center
Ignite Youth Ministry – Community Center
Shine Girls Ministries – Kids Wing
Flash Boys Ministries – Kids Wing

Please check-in all children ages 0 to 6th grade at the Kids Check-in area located at the back of the lobby. You will receive a ticket with a code on it for each child. All children will then enter the double doors to the Kids Wing and will be directed to their appropriate rooms
To pick up your children, you'll need to have the ticket you received at check-in. Children grades 5th through age 3 will be picked up outside of the Community Center doors. Newborns to 36 month old children will be picked up at the nursery and toddler area in the Kids Wing. A volunteer worker will take your ticket at the door to your child's room and check your child out.
To save time at your first check-in, feel free to visit our online registration. Just be sure to give us at least 4 hours notice so we can transfer the information into our check-in software.
Every person who walks through our doors matters and we would love the opportunity to meet you at our Connection Center located in our lobby area after each service. Once there you'll have the opportunity to meet our Pastor, receive a free gift, and get answers to any questions you might have about Radiant Life Church. This is also a great time to find more about some of the amazing opportunities to be a part of what is happening at Radiant Life Church.
All we'll ask of you is a few minutes of your time to tell us about yourself and how we can serve you better. If you don't have time to stop, you can always complete our online Guest Connection card by clicking on the link below.


844 Hartman Rd. | Wadsworth, OH 44281
Phone: (330) 335-1594 | email: info@myrlc.family