On June 7th, we get to physically be HOME together! That's right, live worship, live speaking, in person relationships… We can hardly contain our excitement! As you know, we want to "Show We Care" to everyone in our family, so we've got a few ways our time together will look temporarily different.
Because our Highland Square campus rents a public school which is currently unavailable, we will temporarily be combining our campuses at our Wadsworth location (844 Hartman Rd) until this ban is lifted.

Our service times have been modified to accommodate social distancing and mass gathering requirements. We will be meeting at 9AM and 11AM on Sunday mornings.

We will have every other row available for use during service to allow for adequate spacing. To maintain the highest level of care, our 9AM service will use the even numbered rows and the 11AM service will use the odd numbered rows. All hard surfaces will be cleaned between service times.

Sunday morning and Wednesday evening Children's ministries will temporarily look different. Shine (girls) and Flash (boys) will remain temporarily closed. Spark (1st-5th grades) and Glow (preschool) will be given activity pages each week as they sit with their parents during service. (Feel free to bring your own entertainment as well.) Kindle (birth-3 years) will remain temporarily closed—these children are welcome in service with us as well. Please stay tuned for our staggered re-launch of each of these ministries. Ignite (6th-12th grade) will continue to meet online each week. Ignite will also have multiple "socially distant" opportunities to hang out together—stay tuned!

Our café and drinking fountains will temporarily be closed. Feel free to support our local coffee shops on the way to church and/or bring your water bottle/coffee along with you to service.

Although we have always provided sanitizing stations, we have increased the number of stations available to you and your families.

As you may be aware, our pastoral staff and service hosts LOVE greeting you at the doors. Handshakes and fist-bumps have been a regular occurrence at RLC. For this time, because we care, we will be moving to the "air five" or the "pretend hug" we've given at least once to someone we love in this season. Have no doubt, you will see our smiles behind our masks.

Speaking of masks—what are we doing with those? Because "we care", our leadership team and volunteers will be in masks. We invite you to join us in protecting our most vulnerable while you are here. We do not require masks, but warmly welcome and encourage them so everyone in our family feels safe while they are here.

Still not feeling ready to come back just yet? ZERO pressure; we care about you too. Our services will be live-streamed so you have the opportunity to experience service from home until you are ready.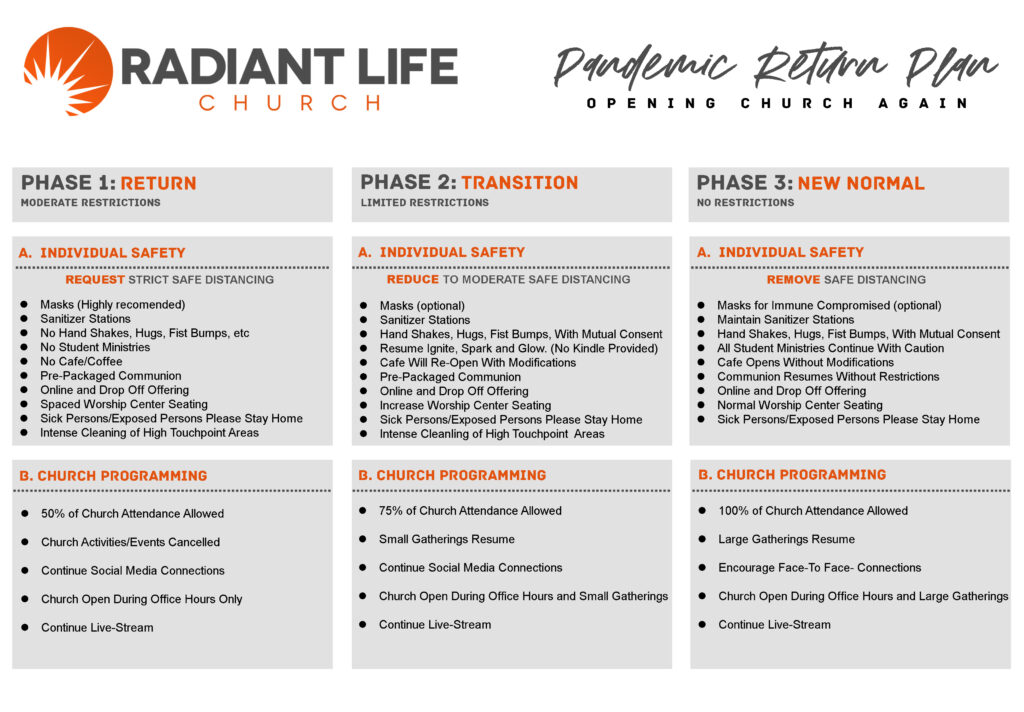 At Radiant Life Church, you'll be welcomed into a friendly, casual environment by people who are excited to see you. We want you to have an idea of what to expect when you arrive at a Radiant Life Church. All you have to do from here is come as you are and find out more for yourself!
At a weekend service, you can expect:
Services that last approximately one hour and fifteen minutes.

Thought-provoking and engaging messages based on the Bible.

An engaging worship experience including contemporary songs.

Fun teaching for your kids.

Sunday Mornings | 9:00am & 11:00am
Adult Service – Worship Center
Ministries for children grades 5th through newborn available during morning worship service.
Wednesday Nights | 7:00pm
(postponed)
Adult Bible Study – Worship Center
Ignite Youth Ministry – Community Center
Shine Girls Ministries – Kids Wing
Flash Boys Ministries – Kids Wing

Please check-in all children ages 0 to 6th grade at the Kids Check-in area located at the back of the lobby. You will receive a ticket with a code on it for each child. All children will then enter the double doors to the Kids Wing and will be directed to their appropriate rooms
To pick up your children, you'll need to have the ticket you received at check-in. Children grades 5th through age 3 will be picked up outside of the Community Center doors. Newborns to 36 month old children will be picked up at the nursery and toddler area in the Kids Wing. A volunteer worker will take your ticket at the door to your child's room and check your child out.
To save time at your first check-in, feel free to visit our online registration. Just be sure to give us at least 4 hours notice so we can transfer the information into our check-in software.

Every person who walks through our doors matters and we would love the opportunity to meet you at our Connection Center located in our lobby area after each service. Once there you'll have the opportunity to meet our Pastor, receive a free gift, and get answers to any questions you might have about Radiant Life Church. This is also a great time to find more about some of the amazing opportunities to be a part of what is happening at Radiant Life Church.
All we'll ask of you is a few minutes of your time to tell us about yourself and how we can serve you better. If you don't have time to stop, you can always complete our online Guest Connection card by clicking on the link below.



844 Hartman Rd. | Wadsworth, OH 44281
Phone: (330) 335-1594 | email: info@myrlc.family